11th Annual Reunion
Charleston, SC
September 15-21, 2003
The 11th annual USS Floyd B. Parks reunion was held September 15-21, 2003 in Charleston, SC. Approximately 200 shipmates, spouses and friends were in attendance, including several first-time attendees. As usual, the organizing committee did a superb job putting together a festive agenda to ensure our enjoyment of this historic and charming southern city. Planned excursions included visits to the beautiful Magnolia Plantation and Gardens, Patriots Point and its collection of historic ships, historic Fort Sumter and the fascinating South Carolina Aquarium.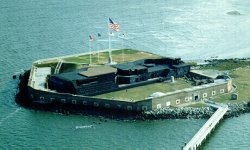 As always the popular hospitality room was in service and well attended offering the opportunity to visit and reminisce with shipmates-new and old.The reunion highlight was again the Sunday banquet dinner that concluded with the always-popular blockbuster raffle. This year's reunion was formally dedicated that night to Capt. John W. O'Neill, the Park's commanding officer 1960-62.

Keith Knoblock
theknoblocks@worldnet.att.net
---
2003 USS Floyd B. Parks Reunion Charleston, South Carolina
Dedicated to Captain John W. O'Neill (USN Ret.)
Commanding Officer 1960-1962
The officers of the USS Floyd B. Parks Association decided it would be appropriate to dedicate the2003-ship's reunion to Captain John W. O'Neill, the outstanding commanding officer of the Floyd B. Parks from 1960 to 1962. Health considerations prevented Jack and his wife, Bertha, from attending the reunion, but the presentation speech and award of a plaque commemorating the occasion went forward at the banquet. Keith Knoblock's presentation was taped and Bill Birdsong accepted the plaque on behalf of Captain O'Neill.
To formalize and personalize the event for the O'Neills, a surprise mini-reunion was organized to take place November 8, 2003, at Bob Bahler's beautiful w-Some in San Diego. Captain O'Neill, seven of his shipmates and spouses attended the gala.
On the pretense of taking Jack and Bertha to lunch, Bill and Sue Birdsong picked them up and drove to Bob's house where the O'Neills expected to be joined by Bob at lunch. Instead, when the O'Neills walked into the house there was total surprise at what greeted them.
Lunch, prepared by Bob for his 14 guests, was followed by some brief remarks by Keith, a viewing of the reunion tape presentation and a formal presentation of the plaque to Jack to make it "official." Bob Bahler followed up an afternoon of camaraderie with preparation of another excellent meal (several steps above what he did aboard ship according to some of those in attendance).
Captain O'Neill was one of the catalysts of what has made the ship's reunions possible. Because of his leadership and presence, shipmates from more than 40 years -ago have remained in close touch during the ensuing years. Not only did these shipmates respect and feel a close attachment to the captain and the ship, they developed close bonds among themselves which endure to this day. If anything, these bonds have become stronger over the years. Moments, memories and shared experiences bring shipmates together. In this case, there are two things in common, the captain and the ship. It is wonderful to be able to experience the sentimentality and fond attachment we have for one another largely because of the influence of Captain O'Neill.
Submitted by Robby Robbins
Special Book Honoring Captain O'Neill