NEWSLETTER
June/July 2007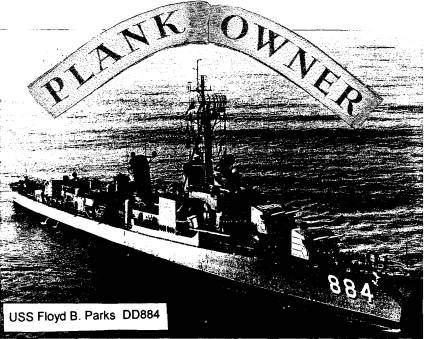 This is our 7th Annual Plankowners (PO) Newsletter, preceding our 15th Annual Reunion in San Diego, Ca. Sept. 17 to 23, 2007
We trust this finds you healthy, happy and making plans to come to San Diego in Sept. They just had to book more rooms, so if you haven't made your reservations yet, please do so NOW.
Since our last Newsletter we learned of the passing of William Crossno 5/17/7 (not a PO but joined us in Pearl), Ernie Hayes ( a PO but not on our Roster) George Leslie, Owen Oatley 9/26/5, and Solomon Zadoff 1/26/6
If you know of any that I missed, please let me know so I can include them in future newsletters, and if you know of any PO's who are sick or hospitalized please let George or I know so we can make contact.
Please try to attend Wakes and Funerals in your area, send a card or make a phone call. The families appreciate knowing that their shipmates remembered them.
I hope to get new Rosters out soon but in the meantime please make the following changes:
Bill and Sue Birdsong - 17139 Owl Tree Rd. - Riverside, Ca. 92504 - 951-789-5309. - Montana Chapman - change area code to 304 - Robert Purdue - remove at his request - Alice Welsh - remove - moved left no forwarding address, Bob Wendt - change area code on both addresses to 989 - Jocelyn Zadoff - 42 Alan Rd., Danbury, Ct 06810
Robby and Lois celebrated their 50th Wedding Anniversary in June. Robby has always treated we PO's in special way. Even though it will be late, please send them a card at: PO Box 61, Twain, Ca. 95984-0061. Love doesn't make the world go round but it makes the ride worthwhile.
We will have a PO's meeting at the reunion. It will probably be on Sat. because the Trolley Tour is Fri. And Sat. and Sun. are free so you can plan whatever you want. I will try to schedule it in the morning so you can still make Sat. Plans. The meeting will be an hour or less. Watch the Hotel Activities board for time and place.
Don't forget to check our Web site - USSFLOYDBPARKS.ORG
Be flexible and you won't get bent out of shape.
Mini reunions were well attended again this year. California had 37 people. NJ Mini will be Fri. And Sat. July 27 and 28 at the Holiday Inn at Tinton Falls NJ. This is exit 105 off the Garden State Parkway. Holiday is at the end of the exit. Ask for the Floyd B. Parks Mini Reunion special rate of $149.00. YOU MUST MAKE A RESERVATION BY JULY 7th in order to get this rate This is only a few days away but we couldn't get any later date, because of the popularity of the Jersey Shore in the summer. For reservations call 732 - 544-9300 and ask for Shelly. Holiday cancellation policy is 6 PM the day of arrival so it will not cost you if you have to make last minute changes Lets see a good turnout. ALL ARE WELCOME.
What counts in life is what we do for others.
Don't forget your dues. They are $15.00 and are due on Jan. 1. If yours are not paid, please send them now.
There will be an election of Association Officers at the reunion Keith Knoblock has volunteered to become the Historian after this reunion. He will follow Tony Allou, who has done an outstanding job.but cannot continue after this reunion. The new Officers will represent a "Changing of the guard". The new Sec/Tres will be Bill Birdsong (with the approval of the membership) which was voiced at last years reunion. Along with Bill comes Sue, who I think will be his Right Hand and his Left Hand.
We had another great reunion in Covington and San Diego is looking bigger and better, Sept. 17 to 23 at the Holiday Inn on Hotel Circle. Make reservations at 619 - 718-7983, ask for Jill and tell her you are with the Floyd B. Parks Reunion. You can cancel up to 24 hours before arrival so it won't cost you if you have to make last minute changes_ You must reserve by-Aug.--F7 in order to get the special rate. -
Scheduled activities are Fri.- Trolley tour $25.00 - Sat. - Luau $25.00 - and Sun - Banquet Dinner $25.00. Sat. And Sun. Days are left free. Make your own plans after seeing the sights on the Trolley Tour.
Transportation from the Airport to the Hotel is being arranged. It will probably be $10.00 per person. Robby will need your flight numbers and times so he can make arrangements. He will put the details in his next newsletter.
Tom is going to Portland, Maine and Grand Island, New York in July to check out promising proposals for our 2008 reunion
I received the following donations of $5.00 to $50.00, to the printing and postage fund: Bill Cahill, Clyde Christy, George Cornell, Dick Hodshon, Edison Kaderly, Sherman Smart, and Sid Sterling.
We spent $84.67 for Flowers for the Ladies at Covington. We collected $50.00 and as suggested at the meeting I took $34.67 out of the printing and postage fund.
Hold on to good friends. They are few and far between.
I have a list of PO's who have never paid dues or have not paid for a number of years. Come on guys, none of us deserve a free lunch.
Don't forget the VA if you need prescription coverage.
All present Officers were unanimously reelected in Covington.

Pres
VP
Sec/Trea
Sec Emeritus
Rep. To Assoc.

Bob Crosby
Ed Breidenbach
George Talbert
Win Hames
Bob Crosby

Bob Crosby
USS Floyd B. Parks
36 Deerfield Ave.
Milford, CT 06460-7316