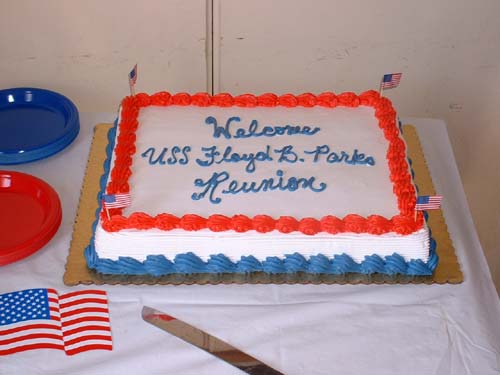 San Diego Mini Reunion 2009
Imperial Beach, CA
Date......Sat. April 4, 2009
Location.....Fleet Reserve Assn. (FRA)

Way to go Floyd B. Parks crew!!!!! Once again you did a terrific job of attending this mini reunion. It was really a day to remember with 40 people showing up. There were several new shipmates and several from out of town or out of state. It just doesn't get better than that. No wonder we have other ship reunions asking about our turnout. We just announce a get together and a large number of you attend.

The day got underway with meeting each other once again and sharing the ever popular "sea stories". Then the FRA served us that great lunch that they prepare for us. They really deserve all the praise we can give them as they do a tremendous job for us. Our tables were all decorated in red, white, and blue and a cake welcoming the Floyd B. Parks crew was decorated the same.

The yearly "candy count" this year had all different kinds of Hersheys kisses. It was won by Harold Golden who came all the way from Georgia. Last year Captain Erner missed the count by 4 and this year Harold missed the count by ………you guessed it……4!!!!!.....we are thinking it's a conspiracy. Door prizes were won by Vernon Marion, Joe Dickson and Juan Sanchez. We were treated Juan Sanchez playing his harmonica for us and he was wonderful.
Those from out of town or state were Al & Jerian Crosby from Carmel, Captain Gene Erner from Carmel, Joe LaPadula from Omaha, NE, Harold Golden from Georgia, Bob & Carol Wilson from AZ., Mel & Fran Wright from S.C., and Joseph Wrennall from Bakersfield.
A special thank you to our webmaster, Sam Villa, for being there and taking many pictures and putting them up on our website. Sam takes very good care of this Parks crew and does a super job on our website.
Also great thanks to Mel & Fran Wright for coming all the way from Charleston, S.C. to help the Birdsongs put this mini together. They are great friends and shipmates.
Those attending the '09 mini were Bob Bahler, Joe Keeley, Mel & Fran Wright, Larry & Wilma Johnston, Franklin Rogers, Joseph Wrennall, Sandra Jones, Sam Villa, Solomon Honeycutt, Captain Jack O'Neill, Harold Golden, Al & Jerian Crosby, Joe LaPadula, Juan Sanchez, Janet Romero, John & Carol Harville, Captain Gene Erner, Bob & Carol Wilson, Riley & Clara Akers, Joe Dickson, Vernon Marion, Richard & Rose Kong, Leonard Nielsen, Tom & Jennifer McVeitty, David Romero, Joe & Bodell Moore, Cesar Ylagan, and Bill & Sue Birdsong.
UNTIL NEXT YEAR…….TAKE CARE!
Photos from Sam Villa.....click here
Some Photos from Bob Bahler....click here