The FLOYD B PARKS was named in honor of Major Floyd Bruce Parks, U.S. Marine Corps, who was born in Salisbury, Missouri, January 16, 1911. He was appointed a midshipman to the Naval Academy in June 1930. Graduated and appointed a Second Lieutenant in the U.S. Marine Corps in June 1934. He progressed in grade until his promotion to Major, May 16, 1942.

After graduation from the Academy, Major Parks had duty at the Navy Yard, Philadelphia, Pennsylvania for a year before he joined the USS ASTORIA. In May 1936 he reported to the Naval Air Station, Pensacola, Florida for flight training. While in training there, Major Parks, aided by an enlisted man, rescued a private from drowning and won the commendation of his superior officers for "quick action, good judgment and swimming ability".

Designated naval aviator June 12, 1937, Major Parks had duty at the Naval Air Station, San Diego, California from August of that year until June 1940 when he returned to the Pensacola Air Station for duty. In May 1941, he was transferred to the First Marine Aircraft Wing, Fleet Marine Force, Quantico, Virginia, and served in that assignment until March 1942, when he joined the Second Marine Aircraft Wing at San Diego, California, and later was sent to the Pacific combat zone.

For his services in command of Marine Fighting Squadron 221 during the Battle of Midway in June 1942, Major Parks was awarded the Navy Cross with the following citation:


"For extraordinary heroism and conspicuous devotion to duty as Squadron Commander for Marine Fighting Squadron TWO TWENTY-ONE, in action against enemy Japanese forces during the Battle of Midway, June 4, 1942. Leading his squadron in a dauntless and aggressive attack against a vastly superior number of Japanese bomber and fighter planes, Major Parks aided in disruption the plans of the enemy and lessening the effectiveness of their attack, thereby contributing materially to the success of our forces. As a result of his courageous and daring tactics and because of the circumstances attendant upon this engagement, there can be little doubt that Major Parks gallantly gave up his life in the service of his country. He displayed the characteristics of a fine leader and excellent airman in keeping with the highest traditions of the United States Naval Service."
Major Parks was also entitled to a facsimile of, and the Ribbon for the Presidential Unit Citation awarded Marine Aircraft Group 22 for action in that battle. The citation follows: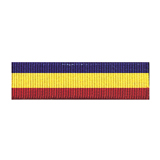 "For conspicuous courage and heroism in combat at Midway Island during June, 1942. Outnumbered five to one, Marine Aircraft Group Twenty-Two boldly intercepted a heavily escorted enemy bombing force, disrupting their attack and preventing serious damage to island installations. Operating with half of their dive-bombers obsolete and in poor mechanical conditions, which necessitated vulnerable glide bombing tactics, they succeeded in inflicting heavy damage on Japanese surface units of a large enemy task force. The skill and gallant perseverance of flight and ground personnel of Marine Aircraft Group Twenty-Two, fighting under tremendously adverse and dangerous conditions were essential factors in the unyielding defense of Midway."
Following the battle of Midway, Major Parks was listed as missing in action, June 4, 1942, and was officially declared dead June 5, 1943.

In addition to the Navy Cross, the Purple Heart Medal, and the Presidential Unit Citation Ribbon, Major Parks had the American Defense Service Medal and the Asiatic-Pacific Area Campaign Medal.

His next of ken, is his wife Mrs. Floyd B. Parks of 3506 Mountain Avenue, El Paso, Texas.



Above information retrieved from the National Archives and Navy Yards by
Oscar Boudreaux, Jr.. The Parks Association thanks you for your contribution.

updated 7/28/05