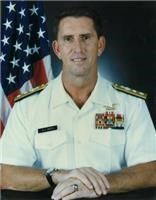 Rear Admiral Raymond Charles Smith, Jr., U.S. Navy (Retired), passed away peacefully at his home in Coronado, CA on February 6, 2022 at the age of 78. Born in Vallejo, CA on July 6, 1943, he was the first child of Raymond and Bette Smith.
He graduated from St. Vincent's High School in 1961 and enlisted in the U.S. Navy in early 1962. He was later selected to attend the Naval Academy Prep School and subsequently received an appointment to attend the U.S. Naval Academy.He graduated from the Naval Academy in 1967 and served on the destroyer USS Floyd B. Parks (DD-884), where he served as First Lieutenant until 1969. He then reported to Basic Underwater Demolition/SEAL Training (BUD/S) and graduated with class 54. In February 1970 after the completion of training, he was assigned to Underwater Demolition Team THIRTEEN (UDT-13) where he served as Ordnance Officer, Operations Officer and Platoon Commander. He then went on to receive a Master of Science degree in Physical Oceanography from the Naval Postgraduate School in Monterey, CA in 1974. He also served staff assignments as Executive Officer of UDT-12, SEAL weapons and diving Systems Acquisition Manager in Washington D.C., Director of SEAL training in Coronado, CA, and Military Assistant to the Assistant Secretary of Defense for International Security Affairs. His command assignments included SEAL Delivery Vehicle Team ONE and Naval Special Warfare Group ONE (NSWG-1). In August 1990, he deployed to the Arabian Gulf in response to the Iraqi invasion of Kuwait, where he led Naval Special Warfare Task Group Central during Operations Desert Shield and Desert Storm. In June 1992, he assumed command of Naval Special Warfare Command at Coronado, where he was responsible for over 2,300 SEALs and support personnel. From 1996-1998, he moved to Tampa, FL and served as both Director of Resources as well as Deputy Commander-in-Chief of Special Operations Command. He retired from active duty in 2001 after 34 years of service.
Following retirement from active duty, Ray served as Chief Operating Officer at the Cathedral of Our Lady of Angels in Los Angeles, CA. He was also on the board of directors of two public corporations and was a public speaker and advisor to various companies and organizations. He published two highly successful SEAL Manuals on nutrition and fitness and was awarded the California Distinguished Service Award while a member of the Governor's Council on Physical Fitness and Sports. Both throughout his career and in retirement, Ray insured his three passions – family, friends, and fitness – remained the top priorities.
He returned often to his hometown of Vallejo, CA to visit both family and childhood friends and was happiest when building memories with his wife and three sons at the Smith family "ranch" in northern California. In his retirement, he loved nothing more than attending his grandchildren's sporting events and performances. It did not matter the event or sport – football, soccer, lacrosse, water polo, Irish Dance, swim meets, musicals – he was there beaming with pride. Fitness was a mainstay in his life. Throughout the years, he coaxed many an unsuspecting neighbor into joining him for a training run and relished the fact that several of them soon became avid runners. Whether it was running marathons, going to the gym, or doing his infamous "handstand" pushups, Ray was a fanatic about fitness. Beginning with his days on the track team at the Naval Academy and continuing throughout this career, he rarely missed his daily workouts. Even into his early 70's, he loved returning to the SEAL Training Command in Coronado, CA and conducting a "workout" for the newly graduated SEAL class.
Upon his passing, a close friend summed him up best: "If we had to pick one person to represent the ideal citizen of our country for all of us to emulate, I defy you to pick anyone better. A great husband, father and friend. "Ray is survived by his loving wife of 54 years, Kathleen (who always considered their meeting a match made in heaven); his three sons, Raymond III (Kacey), Nate (Rachel) and Adam (Josi); his eight grandchildren, Raymond IV, Courtney, Nathan, Isabella, Colman, Holden, Nicolas, and Lucas; his sister, Carolyn Rasler (Joe); and brother, Kevin Smith (Cathy).